Our Vision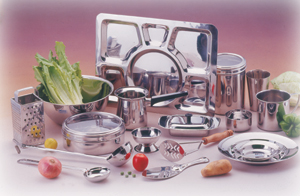 A commitment towards our vision to be better than the best, by providing a synergy of precision quality products with dedicated services to create an environment of innovation and excellence in all spheres.
A commitment aiming towards high measures of quality assurance with precision levels meeting the exacting micro demands of various Kitchenware, Houseware and Hotelware Products.
A commitment towards learning from the past and marching ahead stridently into the future.


Our Mission



We believe to provide Innovative and Stylish Kitchenware products to create environment - be it formal or informal Kitchen.
Meet us at: Ambiente 2023
Frankfurt, Germany (February 3-7, 2023)
Booth Location : Hall 9.0 F 68


Stainless Steel Kitchenware, Stainless Steel Houseware, Stainless Steel Hotelware, Stainless Steel Cutlery, Stainless Steel Bowls, Stainless Steel Mugs, Stainless Steel Stock Pot, Stainless Steel Canister, Stainless Steel Kitchen Tools